10 Best Idle Animations In Genshin Impact
The idle animations in Genshin Impact tell you a little bit about the character and their story.
Genshin Impact has more than 50 different characters, so there are a lot of different personalities and styles. Each of these characters can be unlocked through a gacha system. They each have their own ways of playing the game, personalities, and complicated backstories that set them apart from everyone else.
Idle animations, which are small emotes that play when a character stands still for a certain amount of time, are one way that these characters stand out. If you want to know which Genshin Impact characters have the coolest idle animations, you don't need to look any further.
Arataki Itto's Hairbrush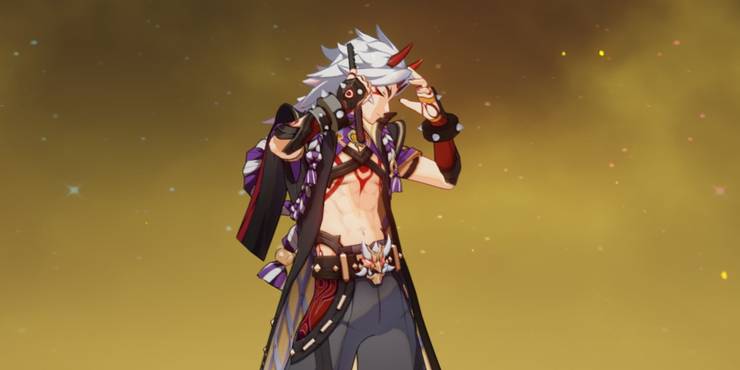 Arataki Itto is the loud leader of the Arataki gang in Inazuma. His loud personality lights up any room he walks into. People in Inazuma call this Oni a criminal, and his idle animations show how cocky and over-the-top he is.
In particular, one of Itto's idle animations shows him pulling out a comb and fixing his hair in a dramatic way. Even though Itto's idle animation isn't the most exciting in the game, it's hard to say that he doesn't have style.
Xiangling And Guoba's Balancing Act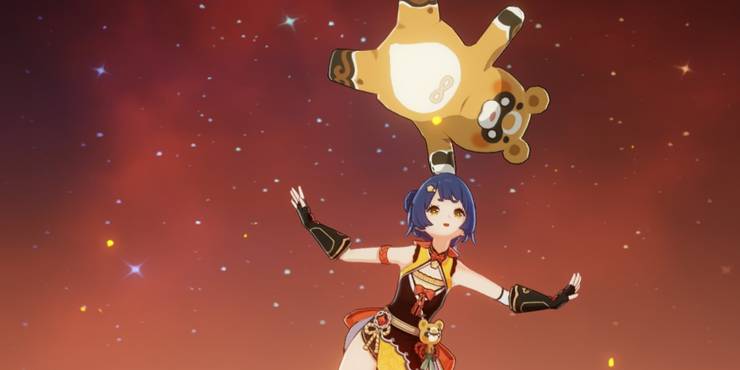 Xiangling is the head chef at the Wamin Restaurant in Liyue Harbor. She and her friend Gouba travel around the area looking for rare ingredients to use in her dishes. Through her idle animations, you can tell that Xiangling loves cooking and has a very close relationship with Gouba.
In this idle animation, Gouba poses on top of Xiangling's head as she tries to keep him from falling. Because Gouba is so cute just by being there, this idle animation is better than most in the game.
Venti's Updraft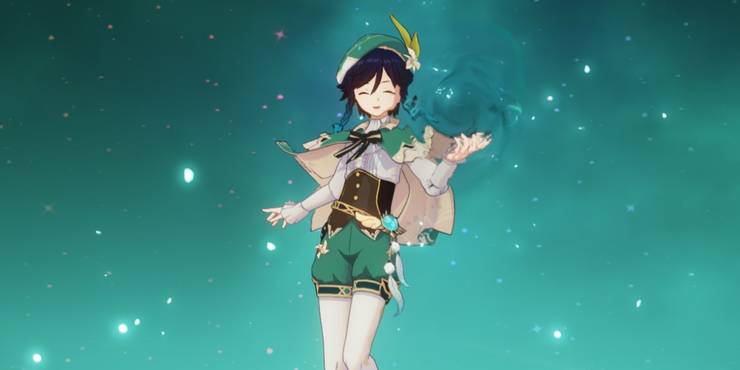 Venti is the anemo archon in Genshin Impact. He is also known by the name Barbados. Venti travels the world playing music and getting drunk on wine because he loves the idea of freedom.
Venti's idle animation is a smaller version of his elemental burst, in which he makes a wind vortex in the palm of his hand. Then he jumps into the air and stays there for a few seconds, showing how well he knows how to use the wind and how carefree he is.
Xinyan's Guitar Solo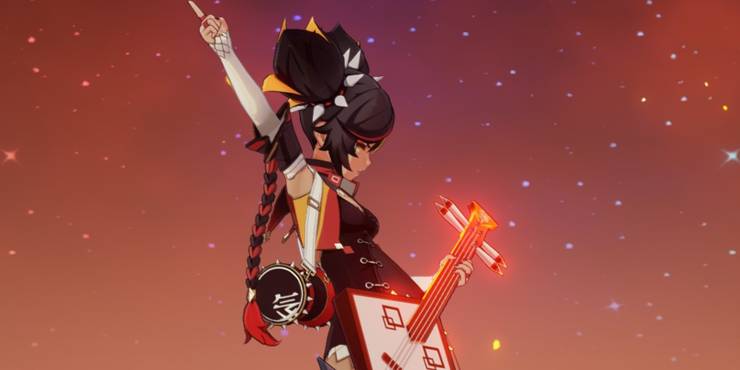 Xinyan is a musician from Liyue Harbor. She plays her electric guitar all the time. Even though Rock 'n' Roll isn't very popular in Liyue, this rocker has her own fans there.
In her idle animations, Xinyan quickly pulls out her guitar and plays a rocking solo with theatrics, music, and visual effects. This shows how good a musician she is. Even though Xinyan is a 4-star unit, her idle animation really makes her stand out.
Shenhe's Exorcism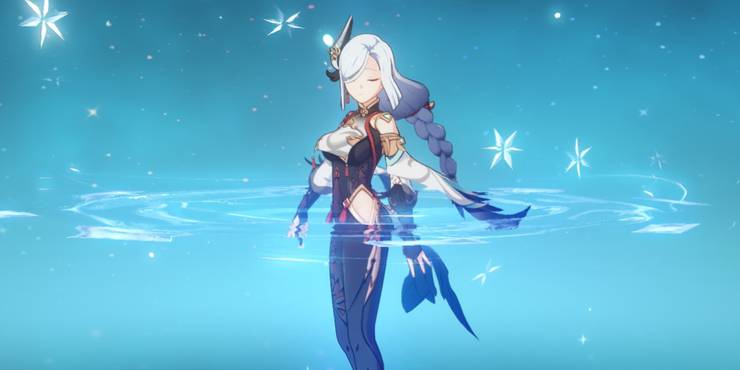 Shenhe is a human who was raised in the mountains of Liyue by the Cloud Retainer. She uses her cryo vision to get rid of demons and protect people who can't fight for themselves. Her idle animations show off the best parts of her personality, like how much she loves her family and how strong she is.
In this idle animation, Shenhe uses her cryo vision to call up a talisman spirit that is usually used to cleanse demons. Then, she turns the ghost into a cold wind that circles her, adding visual effects that make the animation even better.
Yae Miko's Sacred Sakura Ritual
Yae Miko is the head of the Grand Narukami Shrine in Inazuma. Even though she is sneaky and cunning, she takes her job as a shrine maiden very seriously. Her idle animations do a great job of showing the two sides of her personality that are at odds with each other. This adds to the story of the character.
Yae uses her Gohei, a wooden wand with two separate streamers that is often used in real-world Shinto ceremonies, in this idle animation. The idle animation stands out because not only does it show how seriously Yae takes her religious duties, but it also has special sound effects that go with how she moves.
Nahida's Swing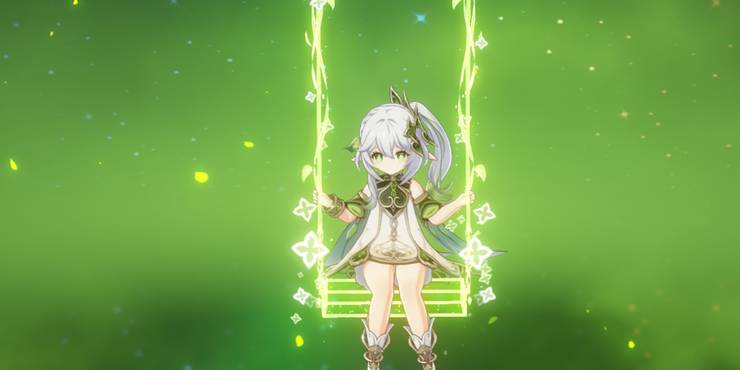 Lesser Lord Kusanali is the dendro archon in Genshin Impact. He is also known by the name Nahida. This young god has spent most of her life stuck in the Akademiya. She has been able to talk to her people through their dreams, though, because of her powers.
Even though she is stuck in a small space, Nahida's idle animations show that she is carefree and childlike at heart. Nahida's best idle animation is when she is sitting on a swing made entirely of dendro energy.
Nilou's Dance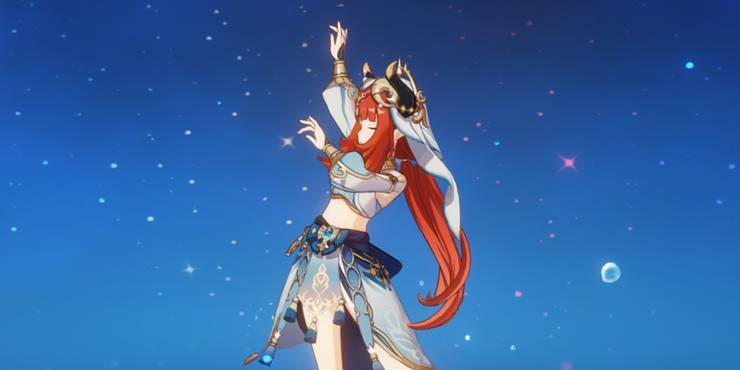 Nilou is a dancer at the Zubayr Theater in Sumeru City. She uses a hydro vision in a graceful way. People in Sumeru City value knowledge more than anything else. So Nilou's interest in art is looked down upon a lot. Even though society looks down on her, Nilou stays committed to her techniques and the dendro archon.
Nilou's dancing skills are shown in one of her idle animations, where she practices her moves and calls up tiny hydro particles. This idle animation really stands out because you can take Nilou anywhere in the world. And have her do the same dance moves in front of different dramatic scenes.
Cyno's Powerful Stance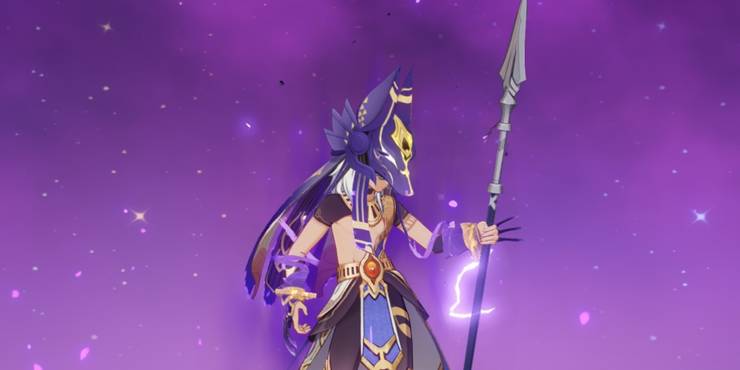 General Mahamatra is what people call Cyno. He is in charge of a military group on Sumeru that hunts down enemies of the Akademiya. Cyno uses his electro vision and the power of a divine wolf spirit that lives inside him to do what is right.
Cyno has idle animations that use the electro energy around him to show off how powerful he is. In this case, Cyno puts on his wolf mask and poses menacingly with his preferred polearm. He does this to make his opponents afraid of him.
Yoimiya's Firework Dance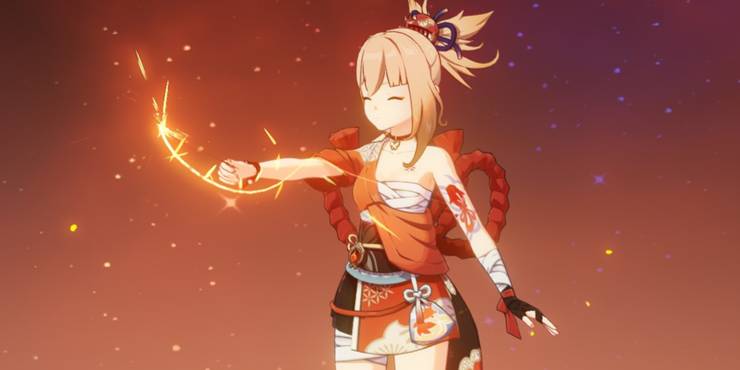 Yoimiya is a fiery person who runs Naganohara Fireworks in Inazuma City. Almost everyone in Inazuma likes him. Yoimiya, who is also known as the Queen of the Summer Festival, brings joy to the people of Inazuma by setting off fireworks in 8 Ball Pool.
During this idle animation, Yoimiya pulls out a sparkler and spins it around while humming a light tune. The dazzling sparkler effects and Yoimiya's happy mood make this idle animation stand out from all the others.